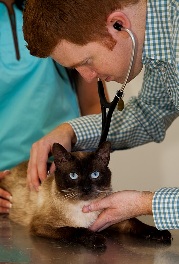 We all know that prevention is the best cure – that's why wellness care is so important for your pets! At Creekside Animal Clinic, we recommend twice a year wellness visits for cats and dogs. Our wellness services include:
Vaccinations
– Vaccinations help your pet build immunity against infectious diseases, some of which can be fatal. We follow vaccine recommendations from the American Animal Hospital Association and the American Academy of Feline Practitioners. By law, all cats and dogs in North Carolina must be up-to-date on rabies vaccination beginning at four months of age. In addition, we consider DA2PP (Distemper – Adenovirus – Parvovirus – Parainfluenza) a core vaccine for dogs and FVRCP (Feline Viral Rhinotracheitis – Calici Virus – Panleukopenia) a core vaccine for cats. The veterinarian may also recommend the bordetella or leptospirosis vaccine for your dog or the feline leukemia vaccine for your cat, depending on your pet's age, lifestyle, and exposure risk.
Physical Exams
– The veterinarian will perform a thorough exam on your pet – from nose to tail. He or she will spend time discussing any questions or concerns you might have and will check your pet's eyes, ears, and nose, teeth and gums, skin, coat, muscles, and joints. The veterinarian will also listen to your pet's heart and lungs, check lymph nodes, and will feel your pet's abdomen for any abnormalities in the internal organs. Please remember that cats and dogs age more rapidly than humans, so your pet having an exam every six months might equate to you having an exam with your doctor every few years. Pets also aren't always able to communicate pain and discomfort, so regular exams are vital.
Parasite Checks
-" Parasites aren't only irritating, they can really harm your pet and can spread to you and your family. We will check your pet's skin and hair for external parasites (like fleas & ticks) and for internal parasites (like hookworms, whipworms, and round worms) and will recommend products to keep your pet parasite-free.
Blood Tests
– As with humans, many diseases in animals can be detected early with simple blood work. We suggest annual blood work for healthy pets, especially for those age six and older. For dogs, we also recommend annual heart worm testing and monthly preventative medication. For at-risk cats, we provide testing for FIV/FELV. Many tests can be performed in our in-house lab, so you'll have results right away. For tests sent to an outside lab, we usually have the results back within 24 hours.