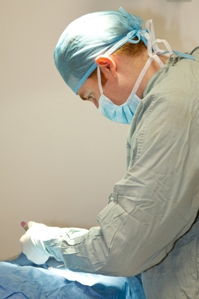 In our continuing efforts to offer the highest quality veterinary medicine, we are pleased to provide a wide range of surgical services for our patients.
Our veterinarians are skilled in common procedures like spay and neuter and more advanced surgeries, such as c-sections, splenectomies, cystotomies, and exploratories. Our surgical suite is equipped with state-of-the-art monitoring technology, which continuously checks your pet's vital signs, like heart rate, blood pressure, and oxygen levels, during surgery. We customize anesthesia protocol based on the individual animal's breed, age, and condition and also recommend pre-anesthetic blood work to help minimize risk.
Surgery can be a source of anxiety and stress for many pet owners. Maybe you worry about whether your pet will be well cared for, or perhaps you have concerns about adequate precautions and monitoring. Let us address your concerns. Whether your pet needs minor surgery or a complex procedure, call us. Let's discuss how our surgical services can benefit your pet.